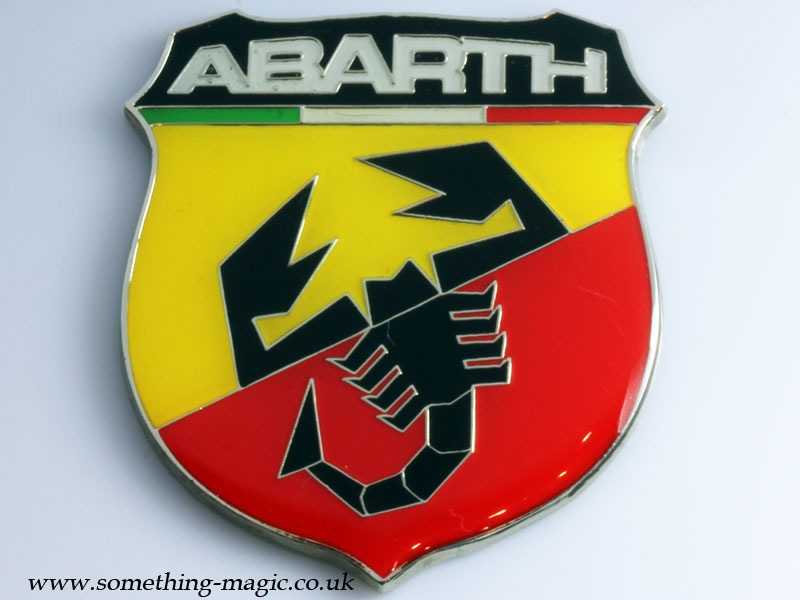 Welcome to the FIAT Abarth
The New
FIAT 500 Abarth
is a true driver's car. It improves upon the already agile FIAT 500 and creates something truly special. The entire car gets the Abarth treatment. This Abarth is not the Euro-market 500 brought over and Americanized. Instead it is the North American model with a thorough performance makeover. The differences in weight and structure between the American and European base cars meant that the suspension calibrations had to be done again from scratch. No area of the car is left untouched. From the interior to the body kit to the suspension, and of course most importantly, the motor. The Abarth features an improved suspension with even stiffer springs and shocks, bigger sway bars and upgraded brakes. These suspension and brake improvements make for an even more responsive and sprightly car. It gives the 500 Abarth the handling and braking capabilities to really make it an absolute blast to drive on both the street and race track. Keeping you focused and in place while piloting the 500 is a driver oriented cockpit.
Why Buy At FIAT of Westbury??
When you purchase or lease a FIAT from FIAT of Westbury you become a part of the large and growing (quickly)
FIAT of Westbury VIP family
.  This distinction offers you, our family, our exclusive VIP Program that includes Lifetime Service Loaners, Life Oil & Filter Changes,24 Hour Rescue and so much more!!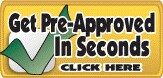 And with our secure, online credit application you can get the ball rolling toward owning your own FIAT Abarth!!!  FIAT of Westbury makes it so easy!! 

The Interior.
Inside you will find seats which are unique to the Abarth. Available In your choice of either cloth or leather. There are also aluminum pedals with rubber inserts to keep your feet planted where they belong. The 500 has a different steering wheel and shift knob for you to hang on to during spirited driving. The steering wheel features a flat bottom for more leg room during high performance maneuvers.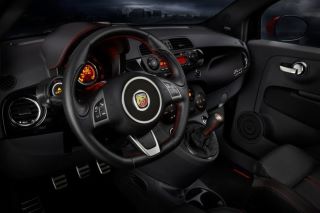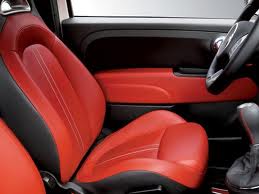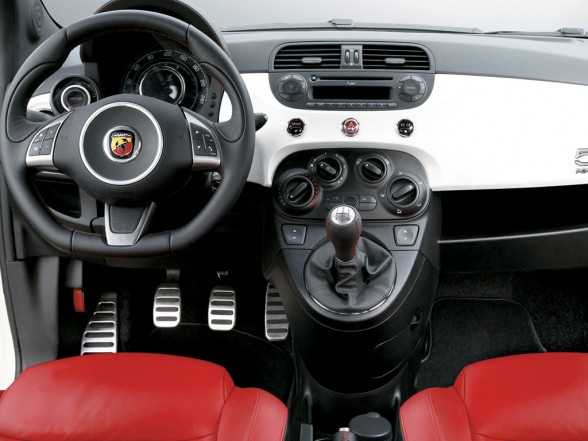 The shift knob is a no non-sense leather wrapped unit with red stitching to match the steering wheel. Keeping you informed is the 500's signature gauge cluster but with an added boost gauge to let you know how much boost the turbocharger is producing. Along with this is a shift light letting you know the optimal time to change gears. On the outside restyled bumpers, side skirts and wheels adorn the already beautiful 500 body. You have a choice of the standard 16" wheels or 17" wheels. The 17" wheels are available in two different colors; Dark Graphite or White. You can also chose to add Abarth signature stripes and matching mirror covers available in Rosso, Bianco, and Nero. And last but not least to be Abarthized?
The Engine.
The engine is a Turbocharged 1.4L Multiair unit. It features twin intercoolers to boost power even more. These upgrades yield 160hp and 170lbft of torque at 2500rpm. This torque comes in right down low where you want it. This gets the 500 off the line much faster and makes for a much quicker FIAT. These improvements take an already fun car with jack-rabbit like reflexes and turn it into a high performance machine well suited to the race track and road alike.
The New FIAT 500 Abarth will be tearing up Long Island streets this spring. Available at Long Island's #1 FIAT Studio, FIAT of Westbury.